This Guide is goint to show why every healer and DPS should be running Sword & Shield as secondaries as it will be META. Let's check it out.
Basic Rundown on how Sword and shield works
There are three abilities you want to be running:
First: Whirling Blade.
Second: Reverse Stab.
Third: Defiant Stance.
Talent: Leadership.
You can in essence use Defiant stance with restoration to trigger a 15% of your max health as a heal. You can swap weapons after using this to trigger the heal instantly.
Then you can use back stab on up to 4 enemies with a 100% Cooldown reduction causing defiant stance to reset completely.
Please watch the video linked as it will show you live example on how it can be used.
I go into further deal about weight classes. It is very important for DPS to be in the light class category as it will provide them with a 20% dmg boost which is HUGE. But what some players don't understand running sword and shield with leadership will provide an additional 10% dmg boost to your allies.
This is especially important for healers to run to provide not only and extra heal for them selves through defiant stance and provide a 10% dmg boost for when healing is not needed for your group members.
Please try this build out if you are in a group, tell me how it works.
I really believe this will change the META for PVP and PVE!
https://nwdb.info/build?skills=0-m4x4xw-mc41gg_3-iv8e0w-0 Sharable link for the build.
Pictures for this Guide.
Weight Class breakdown.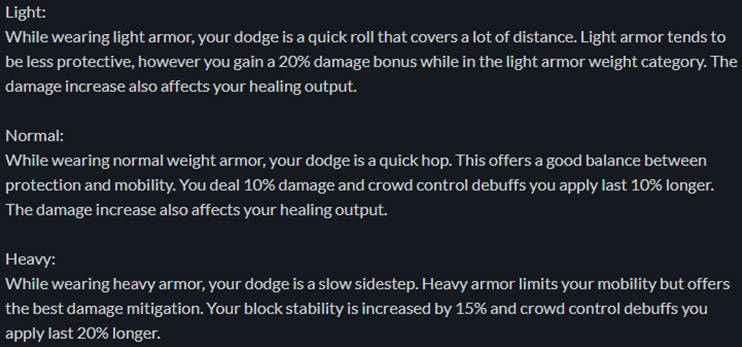 [previewimg=25085881;sizeOriginal,floatLeft;New World Sword and Shield Build.PNG]
Sword and Shield Build.
That's all we are sharing today in New World Why Healer & DPS Should Run Sword & Shield as Secondaries, if you have anything to add, please feel free to leave a comment below, you can also read the original article here,  all the credits goes to the original author Hightierian
Related Posts: