Welcome to SteamAH, Here is a few new outfits released in the Fallout 76 Wastelanders DLC. Mountain Scout Uniform, Raider Nomad Outfit, Settler Work Chief Outfit, and Nuka-Cola Settler/Raider Projection Lamps. here is a simple guide for you to get Mountain Scout Uniform in the game. if you have any problems. please let me know.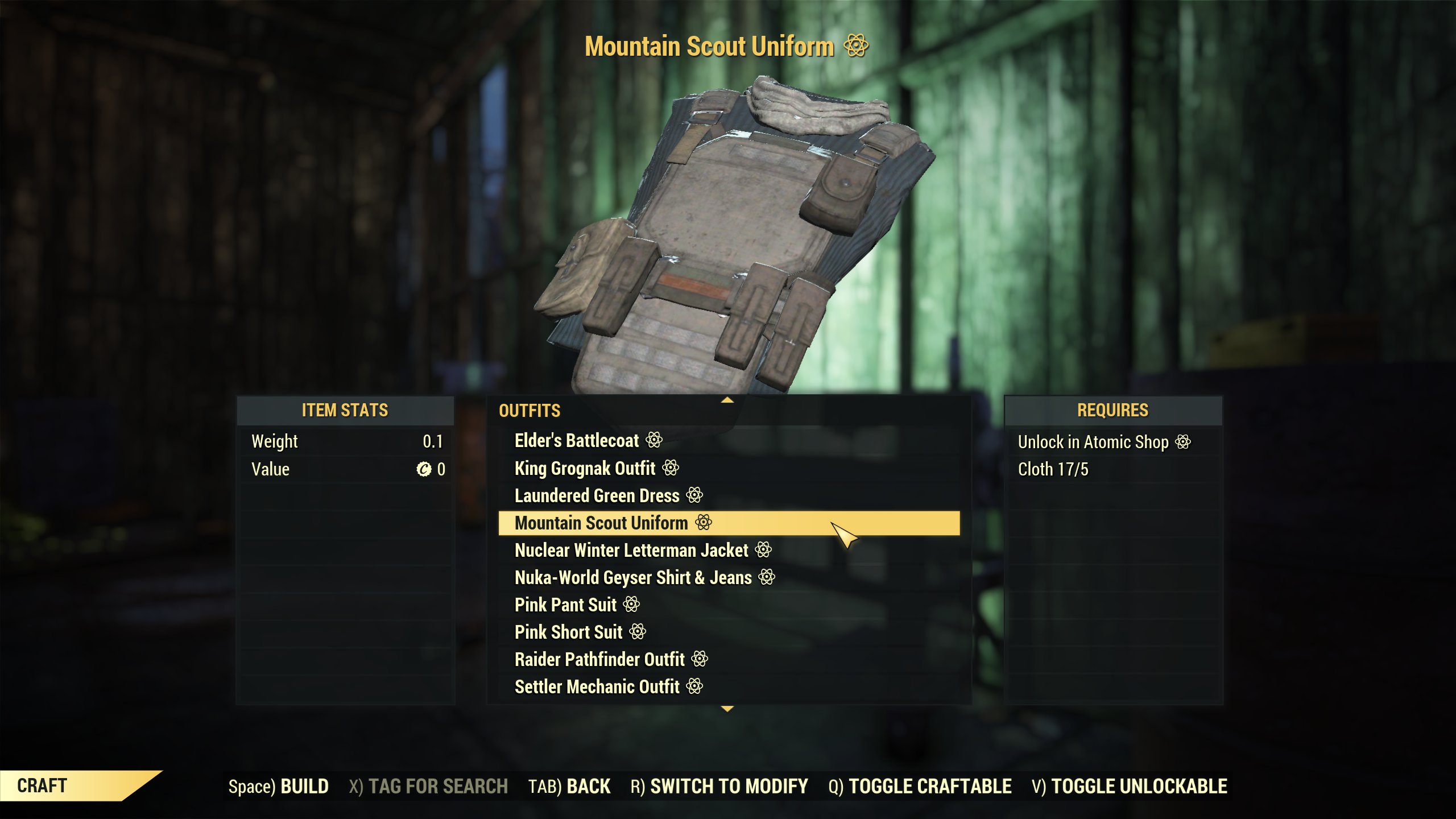 How to Get Mountain scout uniform?
The new outfit free for those who played before wastelanders.
It is craftable in the armor station under the outfit tab. Looks pretty cool but backpacks don't show when wearing it which it may be a bug.
You can also take a look at the New clothing on video:

Here are all the cloth lists in Fallout 76 game so far:
A
Albino fur outfit
American Patriot Suit
Amusement park worker outfit
Amusement park worker outfit clean
Arktos lab coat
Army fatigues (Fallout 76)
Asylum worker hat green
Asylum worker hat weathered
Asylum worker hat white dirty
Asylum worker uniform blue
Asylum worker uniform brown
Asylum worker uniform forest
Asylum worker uniform green
Asylum worker uniform pink
Asylum worker uniform red
Asylum worker uniform weathered
Asylum worker uniform white
Asylum worker uniform white dirty
Asylum worker uniform yellow
B
Baaaad News Billy Suit
Baseball uniform (Fallout 76)
Bathrobe (Fallout 76)
Black and white tuxedo
Black fisherman's overalls (Fallout 76)
Black vest and slacks (Fallout 76)
Blue and tan shirt and slacks
Bomber jacket (Fallout 76)
BOS jumpsuit
Bottle and Cappy shirt & jeans (Fallout 76)
Bottle shirt & jeans (Fallout 76)
Brotherhood lab coat
Brown fisherman's overalls (Fallout 76)
C
Cage armor (Fallout 76)
Cait's outfit
Camden Park jumpsuit
Camden Park uniform
Camouflage pant suit
Camouflage short suit
Cappy shirt & jeans (Fallout 76)
Captain Cosmos Suit
Casual outfit (Fallout 76)
Checkered Shirt and Slacks
Civil War era dress
Civil War era suit
Clean black suit (Fallout 76)
Clean blue suit
Clean grey suit (Fallout 76)
Clean skiing outfit
Clean spacesuit (Fallout 76)
Clean spacesuit jumpsuit
Clean steel worker uniform
Clean striped suit (Fallout 76)
Clean tan suit (Fallout 76)
Clown outfit
Confederate uniform
Cowhide western outfit (Fallout 76)
Cryptid Enthusiast Outfit
Cutthroat Outfit
D
Daredevil Suit
DB Tech varsity uniform (Fallout 76)
Denim Suit
Dirty Army fatigues (Fallout 76)
Dirty Postman Uniform
Dirty tan suit (Fallout 76)
Drifter outfit (Fallout 76)
E
Elder's battlecoat
Enclave Officer Uniform (Fallout 76)
Engineer's uniform
Explorer outfit (Fallout 76)
F
Farmhand clothes (Fallout 76)
Festive Elf Outfit
Festive Winter Pant Suit
Field scribe's uniform
Fire Breather uniform
Fireman uniform
Fisherman's outfit (Fallout 76)
Fisherman's overalls (Fallout 76)
Fishing Outfit
Fixer's suit
Forest camo jumpsuit
Free States Revolutionary Outfit
Free States Survivalist Outfit
G
Golf outfit
Golf skirt
Grafton Monsters jacket and jeans
Grafton Steel jumpsuit
Grafton track suit
Greaser jacket and jeans (Fallout 76)
Green Fisherman's Overalls (Fallout 76)
Green shirt and combat boots (Fallout 76)
Grey fisherman's overalls (Fallout 76)
Grillmaster's Outfit
Grognak costume (Fallout 76)
H
Halloween costume skeleton
Halloween Costume Vampire
Halloween costume witch
Hazmat suit (Fallout 76)
Helmeted cage armor (Fallout 76)
Helmeted spike armor (Fallout 76)
Hooded rags (Fallout 76)
Hunter safety vest orange outfit
Hunter safety vest red outfit
Hunter's long coat (Fallout 76)
Hunter's pelt outfit (Fallout 76)
I
Imposter sheepsquatch outfit
J
Jack O'Lantern Pant Suit
Jack O'Lantern Short Suit
Jaguar Pant Suit
Jaguar Short Suit
L
Lab coat (Fallout 76)
Laundered Blue Dress
Laundered Cream Dress
Laundered Denim Dress
Laundered Green Dress
Laundered Loungewear
Laundered Pink Dress
Laundered Rose Dress
Leather coat (Fallout 76)
Leather Greaser Jacket
Letterman's jacket and jeans (Fallout 76)
Longshoreman outfit (Fallout 76)
Lumberjack Outfit
M
Manta Man Outfit
Marine armor helmet (Fallout 76)
Meat Week Apron
Mechanic jumpsuit (Fallout 76)
Mechanist's outfit
Medical Scrubs
Military Intel Officer Uniform
Military officer uniform
Miner uniform
Mountaineer Suit
Mr. Claus' Suit
Mr. Fuzzy mascot suit
Mrs Claus' dress
N
Nuka-Girl rocketsuit (Fallout 76)
Nuka-World geyser shirt & jeans (Fallout 76)
Nuka-World shirt and jeans (Fallout 76)
Nurse uniform
O
Orange shirt western outfit (Fallout 76)
P
Padded blue jacket (Fallout 76)
Pastor's vestments (Fallout 76)
Patched suit (Fallout 76)
Patched three-piece suit (Fallout76)
Patterned Fringed Dress
Pink Pant Suit
Pink Short Suit
Pioneer Scout outfit
Piper's trench coat
Plaid Pant Suit
Plaid Short Suit
Police uniform
Poodle Skirt
Postman uniform (Fallout 76)
Prepper Trapper Outfit 2
Pristine miner uniform
Pristine mole outfit
R
Radstag hide outfit (Fallout 76)
Raider Scabber Outfit
Raider Waster Outfit
Ranger jumpsuit
Ranger outfit (Fallout 76)
Ranger outfit clean
Ratty skirt (Fallout 76)
Red And Khaki Shirt and Slacks
Red dress (Fallout 76)
Red Rocket jumpsuit
Responder fireman uniform
Responder police uniform
Responders paramedic jumpsuit
Rhododendron Pant Suit
Ritual bindings
Roadtripper Blouse and Capris
RobCo Jumpsuit (Fallout 76)
RobCo T-shirt and Shorts
Rootin' Tootin' Cowboy Outfit
S
Scavenger outfit (Fallout 76)
Sentry bot helmet (Fallout 76)
Sequin dress (Fallout 76)
Sheepsquatch Fanatic Outfit
Sheepsquatch Mascot Outfit
Sheepsquatch mascot outfit
Silver Shroud costume (Fallout 76)
Skiing navy and orange outfit
Skiing outfit
Skiing purple and white outfit
Skiing red and green outfit
Soiled Mr. Fuzzy mascot suit
Spacesuit (Fallout 76)
Spacesuit Jumpsuit
Spike armor (Fallout 76)
Starlet sniper outfit
Stars and Stripes Dress
Steel worker uniform
Straight jacket
Straight jacket clean
Summer shorts (Fallout 76)
Surveyor outfit (Fallout 76)
Survivalist's outfit
Suspenders and slacks (Fallout 76)
Related Posts: